Thời gian đăng: 20-06-2018 10:07 | 133 lượt xem
In bản tin
Lãnh Đạo & Điều Hành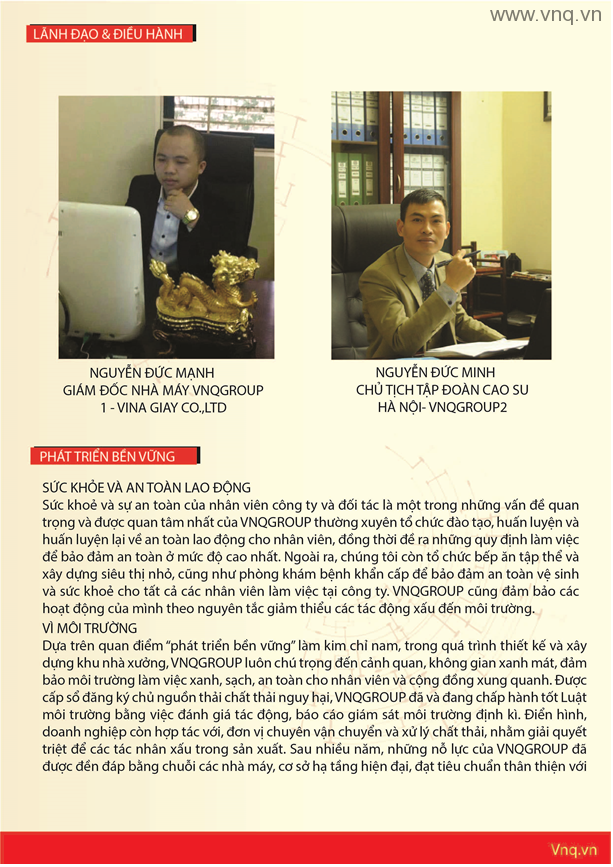 LEADER & OPERATOR
Mr Nguyen Duc Manh- Director of VNQGROUP1- VINA GIAY CO., LTD
Mr Nguyen Duc Minh- Director of Hanoi Rubber Group-VNQGROUP 2

STABLE DEVELOPMENT

HEALTH AND LABOUR SAFETY

Health and labour safety of all employees and partners remain an important and most-concerned matter of VNQGROUP. VNQGROUP often offers educating, training and retraining lessons on labour safety for employees. At the same time, the company also sets out strict regulations to ensure the highest safety level.

Besides, we build a main kitchen and a small full-equiped mart as well as emergency clinic to make sure of the hygiene safety and health for all employees working at VNQGROUP.

VNQGROUP also makes sure to minimize bad effects that our activities may exert on the environment

FOR THE SAKE OF ENVIRONMENT

Taking the concept of "Stable Development" as our leading light, during the period of designing and building the factory areas, VNQGROUP paid a nonstop attention to landscape, green atmosphere; made sure of a safe, green, clean environment for employees and surrounding community. Granted the registration of hazardous waste owner, VNQGROUP is strictly obeying to Environment Law by evaluating the effects and making periodic environment observing reports. Particularly, VNQGROUP keeps our corporation with waste transport and treatment units to thoroughly deal with unwanted effects during production processes. After years, all attempts made by VNQGROUP are responded with chains of factories with modern infrastructure and facilities, meeting the standard of environment friendliness.