Thời gian đăng: 19-06-2018 15:46 | 120 lượt xem
In bản tin
Tầm Nhìn Và Sứ mệnh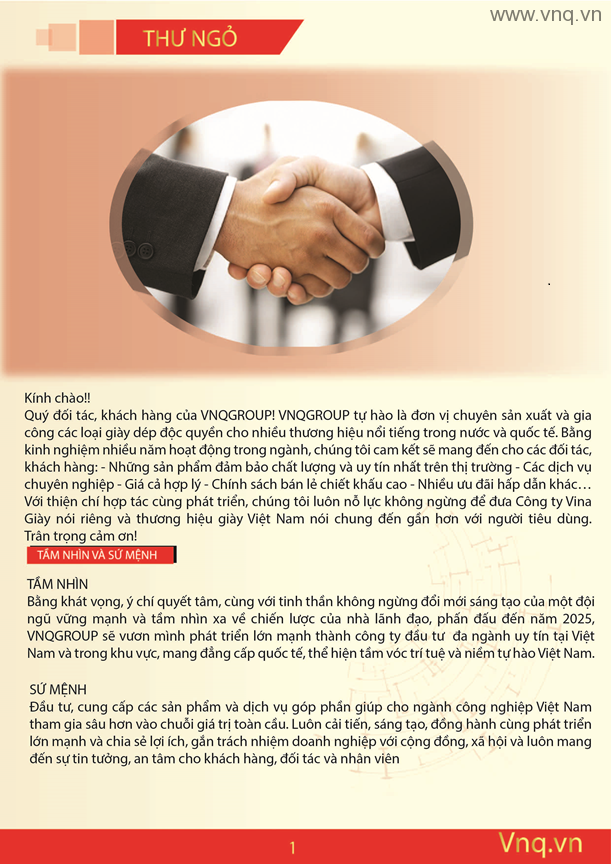 Page 1
OPEN LETTER
Dear all VNQGROUP's partners and clients,
VNQGROUP is proud to be a specialized unit exclusively manufacturing and processing footwear for many domestic and international pretigious brands. With our many years of experience in the industry, we commit to provide our clients with:
The most reliable and quality products in the market
Professional services
Good price
High discount retailing policies
And many other attractive deals…
With our goodwill to cooperate to co-develop, we always endeavor to bring Vina Shoes Company particularly and Vietnam branded shoes generally closer to consumers.
Special thanks!
VISION & MISSION
VISION
With the extreme aspiration, determination and spirit of unceasing innovation of a strong team and the strategic vision of the leader, VNQGROUP strives to grow into a prestigious multi-branch investment company in Vietnam and in the region with world-class status, demonstrating our intellectual enormity and being a pride of Vietnam in 2025.
MISSION
To invest and provide products and services that enable Vietnam's industry to become more involved in the global value chain.
To always innovate, create, accompany together to grow and share benefits.
To connect corporate responsibility with the community, society and always bring trust, peace of mind to our customers, partners and employees.